46 total views
This is a 5 part series where we will learn to build Student Attendance Management System Using VB 6 using ms access as the back-end database and visual basic 6.0 as a front end.
Part 2: Attendance Management System: Database Creation
This series goes through following stages and each of the stages is explained in a separate article in details.
Requirement Analysis
Database design, creating relations and relationships
Interface design and Coding
MDI form and Modules
Testing and Project completion
Before you start the project make sure that you have visual basic 6 installed and working. You also require MS Access any version above 2003-2007.
If you have a higher version of MS Access, then save your files in MS Access 2003-2007 format (.mdb).
Let us start building the application.
Requirement Analysis
The first thing before making any application is to understand the customer requirement and its called a requirement analysis. The end product is a document called SRS, but for this document, we will not create any such document.
This part will only analyze the customer requirement in details and project constraints that will affect the application to built.
In this case,
" The client is a college that wants an attendance management system. The customer wants the separate login for students, teachers, and admin staff. The student must be able to view only their own and other student attendance. The must be able to check attendance between certain date ranges (say semester) and find out how much is the deficit, current total and eligibility to sit in the exam.
The teachers can mark daily attendance for themselves and for other teachers if they are replacing them. They should be able to view attendance for their students as well.
The admin staff has full privilege they can view attendance, manage student records and teacher records but cannot mark attendance."
You read the verbatim and make a note of all the important points that may be necessary for the project.
There are three kinds of users in this system – student, teacher and admin staff. So we now list out all the requirements of each user.
Student
Need separate login
View attendance
View friend's attendance
Teacher
Need separate login
View attendance for a student
Mark attendance only for teacher that has logged in.
Admin Staff
Need separate login
View attendance
Manage student database
Manage the teacher database
Based on the requirement analysis, we can create a high-level diagram for the attendance management system and identify how the user will use the system. This is called a use-case diagram.
Use-Case Diagram
The use-case diagram identifies the goal of the system in meeting user requirements. In this section, we will create a use-case diagram for the attendance management system.
The first step is to identify the actors. An actor is a user with a specific role. Earlier we identified 3 actors.
Student
Teacher
Admin (short for administrator)
Based on the requirement analysis we could identify primary tasks of the system.
Login
View Attendance
Mark Today Attendance
Manage Student Records
Manage Teacher Records
Let's make the use-case diagram for the attendance management system.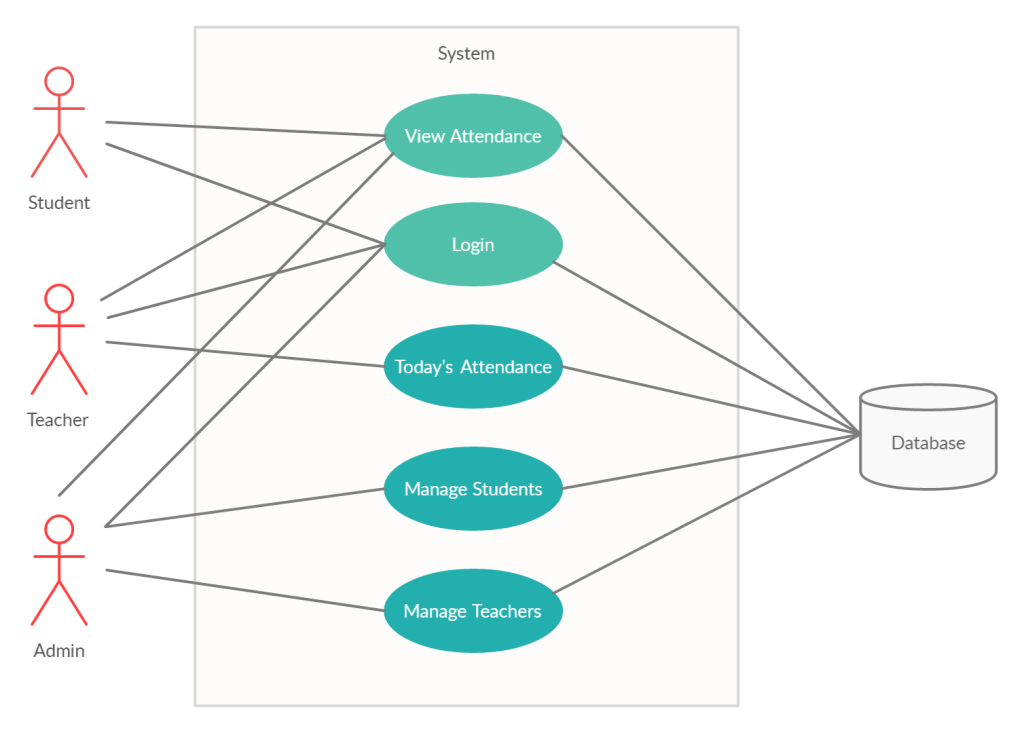 Now that we have a clear picture of what the system must do to meet the user requirements. We have to look at the attendance management system in more detail.
System Diagram for Attendance Management
One way to show the details of the system is through a system diagram that provides a high-level view of the system. The system diagram shows the parts of the system that interact with each other.
We wish to create a system diagram that shows the hierarchical relationship between the components of the system.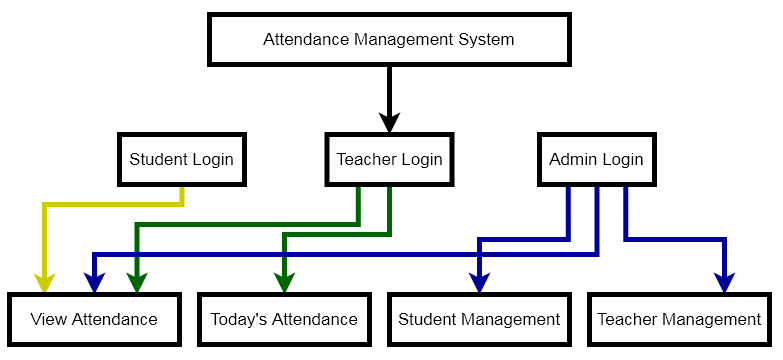 In future articles, we will discuss the system diagram for each of the components and see how they help in building interfaces for our project.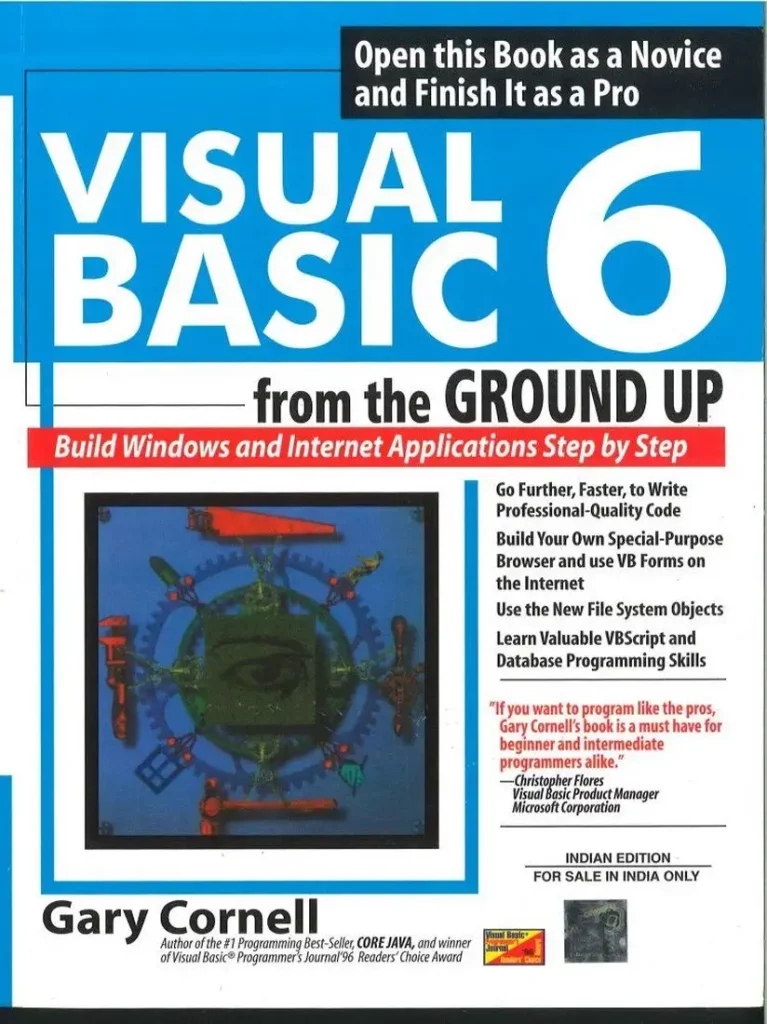 Visual Basic 6 from the Ground Up – 2017
Learn to build your own commercial-quality application not just toy apps using this comprehensive,hands-on tutorial from expert author Gary Cornell,winner of the prestigious Readers' Choice Award from Visual Basic Programmer's journal. This best-selling guide for the beginning and intermediate programmer has been thoroughly revised and updated to cover the newest version of the world's #1 visual programming tool. Using modular,step-by-step instructions,you will: Progress from elementary programming skills to marketable expertise. Learn object-oriented programming. Create VB Forms for use in Internet Explorer. Discover Visual Basic's newest database features. Create sophisticated event-driven programs. Build you own special-purpose Internet Browser. Use the Visual Basic environment to develop programs. Discover how to distribute your programs. Unleash the power of graphics programming,OLE, and ActiveX.