Visual Basic 6 is a popular GUI based programming language and very easy to learn.
There is two part in learning visual basic 6 – the visual design and the coding.
About Visual Basic 6 Tutorial
This is tutorial is for all type of audience will learn visual basic 6 programming. There is absolutely no prerequisite to learn from this tutorial.
However, you may need to install visual basic 6 software to practice the examples in the tutorial.
VB6 Tutorial Topics
Here is list of topics for Visual Basic 6.0. Read each lesson from top to bottom.
Recommended Books
To learn Visual Basic 6 on your own, you need to use our tutorial and good books for offline reading. Since, Visual Basic 6 is older program, its code is still useful because the newer version of visual basic uses the same coding principles. Therefore, for a newbie it is worth reading and learning Visual Basic 6 if you want to gain expertise in VB Scripting. It is a good starting point.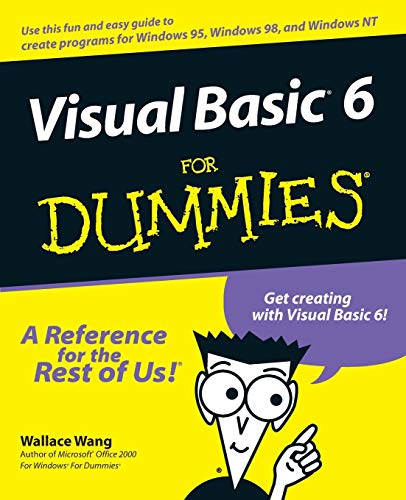 Visual Basic 6 For Dummies 1st Edition
Create your own custom Visual Basic programs fast for Windows 95, Windows 98, and Windows NT!
If you want to develop business applications for Windows, then Microsoft's Visual Basic 6 programming environment is for you. With its powerful and friendly object-oriented interface, Visual Basic 6 is the ideal tool for creating easy-to-use and attractive interfaces of your own. Whether you want to build original programs from the ground up or take advantage of existing wizards, Visual Basic 6 For Dummies will help you design and debug your work – and accomplish all your goals!
Covers using Visual Basic 6 with Windows 95, Windows 98, and Windows NT
Walks you through the ins and outs of object-oriented programming in Visual Basic and using the Visual Basic toolset
Shows you how to make use of menus and submenus, write subprograms that everyone can share, save and retrieve information in databases, integrate ActiveX controls into your applications, and build attractive user interfaces with buttons, boxes, and scroll bars
From the fundamentals of writing BASIC code to the thrill of distributing your very own custom applications, Visual Basic 6 For Dummies brings a fresh perspective to programming in Visual Basic 6 that everyone can understand.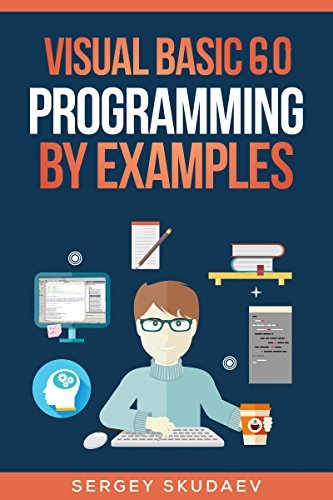 Visual Basic 6.0 Programming by Examples Kindle Edition
Visual Basic is one of the easiest to learn computer programming language.
Yes, it is obsolete, but all MS Office products include VBA (Visual Basic for Application) and if you learn VB, you will know VBA!
In my tutorial, I used VB 6 to explain step by step how to create a simple Visual Basic Application and a relatively complex one (a Patient Management system) that is using a database. A patient Management application source code is explained in detail.
You will learn how to design and create a database in MS Access and how to create tables and queries.
The book includes a sample application that shows how to use Windows API function.
You will learn how to convert VB program that can be run only in Visual Basic development environment to a distributable application that can be installed on any client computer.
For illustration, I included 128 screenshot images and links to a video.
You will be able to download from my website complete source code for 7 Visual Basic projects including a Password Keeper, a Patient Management and a Billing Management application.
Get Your Copy Today!