In this article, you learn about Vb 6 form and understand the types and different parts of VB 6 form object. There are many things that you can do with VB 6 form object. Here is a list.
Change form title
Add new title
Create menu bar
Create new toolbar for the form
Add new status bar for the form
Control and modify various form properties both design time or run-time.
What is a VB 6 Form ?
A VB 6 form is a window object. You can call this window under design view as Forms.Whenever you open a new project or add new form in VB 6 IDE(Integrated Development Environment), you will get form in design view.
These forms during run-time are Windows.
What can we do with form?
You can change form properties to change how form appears and add codes for both form and its controls to change the behavior.
Speaking of controls, the VB 6 form allows you to add various controls in the form and design it as per your project.
What are different parts of VB 6 form ?
We have listed the different parts of a VB 6 form. Read them carefully as they will be helpful in creating new forms and configuring them for your VB projects.
Title bar – Every VB 6 form has a title bar with form title and a control box on the right-hand side with three buttons – the Minimize, the Maximize, and the Close.
You can change the title in two ways – the property box in the lower right corner of VB 6 IDE or through the code editor. We will see and example of this in future articles.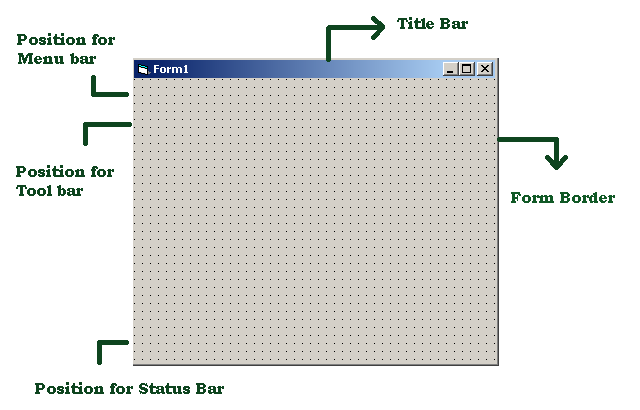 Menu bar – Under the title bar, is an optional menu bar, that contains various user menu. Each menu can take you to different places such as open other forms or do some windows related task such as copy, paste.
Main area – The main area is called the client area is something you as a VB programmer need to take care of. In this part, you will add or remove controls as per the need of the project.
Border – Each of the VB 6 form has a border. You can change the properties of this border using property box or the code editor, whichever is convenient.
Now that you are comfortable with forms, let's talk about another type of form.
MDI Form Basics
In a VB 6 project, there can be multiple forms and it is very difficult to manage loose forms. Therefore, VB 6 offers MDI form.
The MDI (Multiple Document Interface) form is a type of container form that displays all other forms in one place. Each of these other forms are called MDI child forms.
The MDI child forms are standard forms that are changed into a MDI child by changing their MDI child property to true.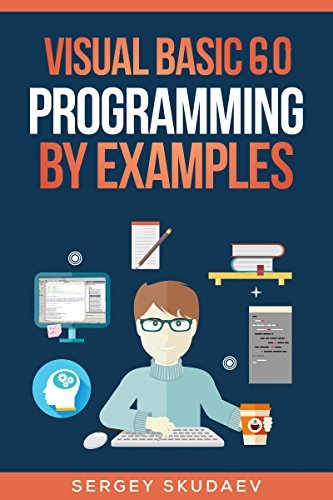 Visual Basic 6.0 Programming by Examples Kindle Edition
Visual Basic is one of the easiest to learn computer programming language.
Yes, it is obsolete, but all MS Office products include VBA (Visual Basic for Application) and if you learn VB, you will know VBA!
In my tutorial, I used VB 6 to explain step by step how to create a simple Visual Basic Application and a relatively complex one (a Patient Management system) that is using a database. A patient Management application source code is explained in detail.
You will learn how to design and create a database in MS Access and how to create tables and queries.
The book includes a sample application that shows how to use Windows API function.
You will learn how to convert VB program that can be run only in Visual Basic development environment to a distributable application that can be installed on any client computer.
For illustration, I included 128 screenshot images and links to a video.
You will be able to download from my website complete source code for 7 Visual Basic projects including a Password Keeper, a Patient Management and a Billing Management application.
Get Your Copy Today!